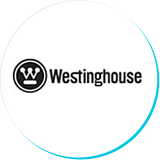 WEC, the provider of technology for Korea's first nuclear power plant-Kori Unit 1, has cooperated with the Korean nuclear industry since its onset. The company was selected as prime contractor for Kori Unit 1 in 1969, and has participated in the construction and operation of Kori Units 1-4 and Yonggwang Units 1&2 built with reactors developed by the company.
WEC also took part in construction of Yonggwang Unit 3-6 and Shin-Kori Units 1-4.
WEC is involved in Korea's first NPP export, the Braka UAE nuclear power plant project, as a sub-contracted company of Doosan Heavy Industries.
British multinational energy company AMEC is widely known for its project management expertise and experience dealing with various projects related to oil, gas, renewable energy, and nuclear.
AMEC has been involved in the development of the Korean energy sector since establishing a joint venture, AMEC Partners Korea, in October 2008.
The company is providing technological advice to Korean nuclear industry, and cooperating with KEPCO using its top quality human resources.
U.S.-based Bechtel is a global leader in the construction and nuclear field. The company's involvement in the development of the Korean nuclear industry stretches back to the construction of Kori Unit 1.
The company participated in drawing up contracts related to design, purchase, and construction of Kori Units 3,4 and Yonggwang Units 1,2.
Bechtel is currently providing technology advisory services to contractors in the nuclear sector and helping KEPCO develop its human resources.
Chicago-based Sargent & Lundy is providing technological consulting to KEPCO for its Braka NPP project. It also played an advisory role for Korea's OPR1000 reactors including Yonggwang Units 3-6, Ulchin Units 3-6 and the KEDO project in North Korea.
The company participated, as a foreign advisor, in architect engineering for OPR1000 in great number of projects including Yonggwang Units 3-6, Ulchin Units 3-6 and KEDO nuclear project, which shows it has kept a close relationship with Korea.
S&L is recently offering technological advice to the contractor of UAE BNPP nuclear project, and working with KEPCO using its top notch technologies and human resources