The APR1400's Nuclear Steam Supply System (NSSS) improves the reactor's safety and reliability by increasing the thermal margin and system capacity, and using more reliable components and materials on top of the advances in the safeguard system. In addition, a simplified reactor vessel head assembly has been implemented to enhance plant maintainability.
Major Design Features of the APR1400 NSSS
1 Reactor, 2 Steam Generator, 4 Reactor Coolant Pump, 1 Pressurizer

Reactor

Thermal Power

: 4,000MWth

Hot Leg Temperature

: 615°F

Thermal Margin

: >10%

Steam Generator

Tube Material

: Alloy 690

Plugging Margin

: 10%

Pressurizer

Total Volume

: 68m2
Pilot Operated Safety Relief Valves (POSRVs) for safe depressurization
Reactor Vessel
Vertical cylindrical shell & Hemispherical lower head, Hemispherical upper head
Forged surface & stainless steel lining
4 inlet nozzles, 2 outlet nozzles & 4 Direct Vessel Injection (DVI) Nozzles
No weld seam in the core region shell
Reactor vessel internal structure consists of the core support barrel and upper guide structure
Integrated upper structure enables shortened refueling period, reduced occupational radiation exposure & simplified working procedures
Steam Generator
10% tube plugging margin
Reduced operating pressure/temperature & increased steam flow rate
Increase in heat transfer area to accommodate upgraded power and reduced Reactor Coolant System (RCS) temperature
Major design improvements
Modified primary outlet nozzle angle (45° → 40°) to improve mid-loop operation
Automatic control of steam generator water level for all operating ranges
Design improvement to prevent flow induced vibration
Alloy 690 TT tubes with improved corrosive resistance
Able to secure the steam generator dry-out time (20 minutes) against Total Loss Of Feed Water (TLOFW) accidents
Pressurizer
Several upgrades have been applied to the APR1400 to allow it to achieve higher performance including an improvement in the operational reliability and maintenance (4 Pressurizer Safety Valves (PSVs) + 2 Safety Depressurization (SDS) valves → 4 Pilot Operated Safety Relief Valves (POSRVs)), an increased pressurizer capacity, and improved capability against Reactor Coolant System (RCS) transients. The POSRV was designed to provide protection from too much pressure as well as safe depressurization, minimizing contamination in containment by discharging fluid in In-containment Refueling Water Storage Tank (IRWST) through the sparger.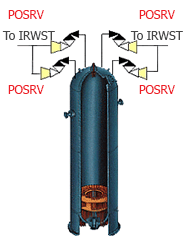 Reactor Coolant Pump
The four pump assemblies circulate reactor coolant from two steam generators to the reactor vessel and back to the steam generators
Centrifugal type
Vertical/Single stage impeller
Diffuser type
Bottom suction
Radial discharge nozzle
Rated Flowrate = 121,600 gpm, Rated Head = 360 ft
Speed : 1,190 RPM
Integrated Head Assembly
The Integrated Head Assembly (IHA) contains not only the Reactor Vessel (RV) upper head, Control Element Driving Mechanisms (CEDMs), heat junction thermocouples and head lift rig as in the OPR1000, but also the head area cable tray, missile shield, seismic restraints and the CEDM cooling fan and ducts, which now can be handled altogether as a package. The IHA also reduces the handling steps of the RV head area as well as the refueling time, resulting in lower radiation exposure to maintenance personnel and seismic loads on CEDM and cables.