KEPCO is there to create high added value for all as the stable
supplier of electric power and customer-oriented services.
As worldwide demand for coping with climate changes and mitigating greenhouse gas emission has been increased after the 21st session of the Conference of the Parties held in Paris, KEPCO is striving to obtain more business references of renewable energy production and expand its sites into Chitose, Japan (Solar energy), Colorado, USA (Solar energy) and Guam, USA (Solar energy) following wind power productions in China and Jordan.
[Fujeij Wind power plant in Fujeij, Jordan]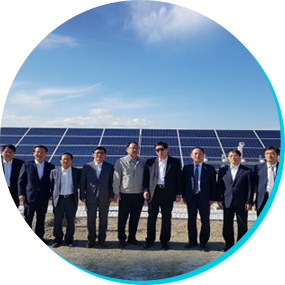 [Solar power plant in Chitose, Japan]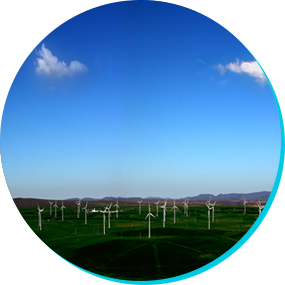 [Wind power plant in Inner Mongolia, China]
[Solar power plant in California, USA]
KEPCO started its first wind power generation in Gansu province, China in September 2005 and is now operating three wind power plants in Gansu province, Inner Mongolia and Liaoning province of China generating total of 1,017MW.

In addition, KEPCO has expanded the business into the Middle East and won the construction project of Fujeij wind power plant (89 MW) in 2013 and commenced the construction in February 2017. Fujeij wind power plant project that is scheduled to be completed in 2018 is the first overseas wind power plant project that is fully financed by KEPCO from the development phase of the project.

Also, KEPCO is actively involved in global clean energy markets, such as Japan and USA, the largest energy market in the world, by initiating commercial operation of solar power plant in Chitose, Japan (28 MW, July 2017), acquiring shares of a solar power plant in Colorado, USA (30 MW, August 2016), winning a solar power plant project in Guam, USA (60 MW, June 2017) and acquiring a solar power plant in California, USA (235 MW, March 2018).
KEPCO's
Major Projects
[2005]

Wind farm projects in Mongolia, Liaoning & Gansusheng,
China(1,017MW)

[2013]

Wind power project in Fujeij, Jordan(89MW)

[2016]

PV project in Lianing, China(7MW)

Chitose PV project in Japan(28MW)

[2017]

A solar power plant in Guan, USA (60 MW)

[2018]

Acquiring a solar power plant in California, USA (235 MW)