We transmit not only Energy but also Trust
As a leading utility company in Korea, KEPCO is committed to the sustainable growth of our business partners who have contributed to the supply of quality power by providing KEPCO with their quality products and services. As an initial step to realize this commitment, we selected and qualified 122 companies among our business partners as KEPCO Trusted Partners based on the extensive evaluation of the quality and reliability of products and customer satisfaction index.
KEPCO hereby qualifies 122 companies as KEPCO Trusted Partners in recognition of their commitment in quality, reliability and customer satisfaction of their representative product.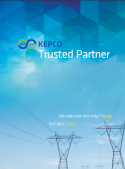 KEPCO Trusted Partner
Dec. 2020
KEPCO Trusted Partners

Serial No.

Line of Products
(representive product)

Company Name

Contact

2013-KTP-001

Hardware and Fittings

SEMYUNG ELECTRIC MACHINERY CO., LTD.

www.semyung-elec.com

2013-KTP-002

Transmission Towers

BOSUNGPOWERTEC CO.,LTD

www.bosungpower.co.kr

2013-KTP-012

Insulators

T.Y TECH CO., LTD.

www.tytec.co.kr

2013-KTP-013

Transformers

HAN ONE ELECTRIC IND. CO., LTD.

www.han1e.com

2013-KTP-014

Transformers

KP ELECTRIC CO., LTD

www.kpelec.com

2013-KTP-015

Transformers

POONGSAN ELECTRIC CO., LTD.

www.pec.co.kr

2013-KTP-016

Transformers

POWERMAX Co., Ltd.

www.powermax.kr

2013-KTP-017

Transformers

SHINYOUNG ELECTRIC CO., LTD.

www.acesy.co.kr

2013-KTP-019

Transformers

NEW KOREA ELECTRIC CO., LTD.

www.nke.co.kr

2013-KTP-022

Control & Protective Devices

SAEROM PROTEC CO., LTD.

solaeul@daum.net

2013-KTP-023

Control & Protective Devices

SANION Co., Ltd.

www.sanion.com

2013-KTP-025

Control & Protective Devices

S&S INC.

www.sns21.co.kr

2013-KTP-026

Control & Protective Devices

SHINSUNG INDUSTRIAL ELECTRIC CO., LTD.

www.ssiec.co.kr

2013-KTP-028

Control & Protective Devices

PNC TECHNOLOGIES CO., LTD

www.pnctech.co.kr

2013-KTP-029

Control & Protective Devices

YOUSUNG INSTRUMENT & ELECTRIC CO., LTD.

www.yousung.com

2013-KTP-031

Control & Protective Devices

GUJU Technology, Inc

www.gujutec.co.kr

2013-KTP-032

Control & Protective Devices

Entec Electric & Electronic Co., LTD.

www.entecene.co.kr

2013-KTP-033

Control & Protective Devices

DONG BANG ELECTRIC INDUSTRIAL CO., LTD.

www.dbeco.co.kr

2013-KTP-034

Control & Protective Devices

Youho Electric Ind. Co., Ltd

www.youho.co.kr

2013-KTP-035

Control & Protective Devices

KwangMyung Electric Co., Ltd.

www.kmec.co.kr

2013-KTP-036

Control & Protective Devices

TechproCo.,Ltd

www.techpro.kr

2013-KTP-037

Control & Protective Devices

JOONGWON ELECTRIC CORPORATION

www.joongwon.co.kr

2013-KTP-039

Control & Protective Devices, Meters

SEONDO ELECTRIC CO., Ltd.

www.seondo.co.kr

2013-KTP-043

Instruments & Meters

Editech Co., Ltd.

www.editech.co.kr

2013-KTP-044

Instruments & Meters

HanbitEDS Co., Ltd.

www.hanbiteds.co.kr

2013-KTP-048

Generators

Bokuk Electric Ind.Co.,LTD.

www.bokuk.co.kr

2013-KTP-049

Telecommunication Materials

CSTC CO., LTD

www.cstc.co.kr

2013-KTP-050

Telecommunication Materials

SONGAM SYSCOM CO., LTD

www.songam.co.kr

2013-KTP-053

General Supplies

EWOOTEC CO., LTD.

www.ewootec.com

2013-KTP-055

General Supplies

SHINHO CHEMICAL CO., LTD.

www.shor.co.kr

2013-KTP-057

General Supplies

WOOSUNG VACUUM TECHNOLOGY CO., LTD.

www.vacuumtech.co.kr

2013-KTP-058

General Supplies

Jaeshin Info Co., Ltd.

www.jsdata.co.kr

2013-KTP-062

D/L & Substation Construction

Sae-A Electric Co., Ltd

www.saeaco.co.kr

2014-KTP-001

Control & Protective Devices Meters

DONGWOO ELECTRIC CORP.

www.i-dongwoo.com

2014-KTP-002

General Supplies

Keuk Dong Oil refinery Co., Ltd.

www.kdoil.co.kr

2014-KTP-003

Control & Protective Devices

Seoul Industrial Elcetric Co., Ltd.

www.siecom.co.kr

2014-KTP-004

Control & Protective Devices

WOODAM Tech Co., Ltd.

jhjang@wdt.co.kr

2014-KTP-005

Telecommunication Materials

GENAD SYSTEM Co., Ltd.

www.genadsys.co.kr

2014-KTP-006

General Supplies

Surgefree Corporation

www.surgefree.co.kr/en

2014-KTP-007

General Supplies

DONGNAM PETROLEUM IND Co., Ltd.

www.dongnampetro.com

2014-KTP-008

General Supplies

O-Sung Electric Machinery Co., Ltd.

www.osemco.com

2014-KTP(Gen)-001

Heat Exchager

SINJUNGWOO Industrial Co., Ltd.

www.sinjungwoo.com

2014-KTP(Gen)-002

Actuator

ENERTORK Ltd.

www.enertork.com

2014-KTP(Gen)-003

Turbine Bolt

SAMJINMETAL Co., Ltd.

www.samjinmetal.com

2014-KTP(Gen)-004

Oil Conditioner

SAMYOUNG FIL-TECH., Ltd.

www.clieanoil.co.kr

2014-KTP(Gen)-006

Analyzer System

KNTEC Co., Ltd.

kntec@kntec.co.kr

2014-KTP(Gen)-007

Protection Relay

YOUNGIN ENGINEERING Co., Ltd.

www.yesyoungin.com

2014-KTP(Gen)-008

Piping Stabilization

KLES Inc.

www.kles.kr

2014-KTP(Gen)-009

Filter

PNC Co., Ltd.

www.pnc21.com

2014-KTP(Gen)-010

Transformer

Hanyang Electric Ind. Co., Ltd.

hytrans.koreasme.com

2014-KTP(Gen)-011

Exciter

GLORY enc Co., Ltd.

gloryenc@hanmail.net

2016-KTP-001

Insulator

KOREA INSULATORS IND. CO., LTD.

www.kri-sy.com

2016-KTP-002

Transformer

INTERNATIONAL ELECTRIC CO., LTD.

www.ieckr.com

2016-KTP-003

D/L Construction

KUMYANG ELETRIC CO., LTD.

www.kyecl.co.kr

2016-KTP-004

Telecommuniction Materials

NURI TELECOM CO., LTD.

www.nuritelecom.co.kr

2016-KTP-005

Transformer

DONGMI ELECTRIC IND. CO., LTD.

www.dongmi.co.kr

2016-KTP-006

Transformer

DONGBANG ELECTRIC IND. CO., LTD.

www.dbeco.co.kr

2016-KTP-007

General Supplies

BUMWOO IT CO., LTD.

www.bumwooit.com

2016-KTP-008

Transformer

SUNGJIN GENERAL ELECTRIC CO., LTD.

www.sjtr.co.kr

2016-KTP-009

General Supplies

SPRINGWAVE CO., LTD.

www.springwave.co.kr

2016-KTP-010

General Supplies

CTE TECH CO., LTD.

www.ctetech.co.kr

2016-KTP-011

General Supplies

YOUNGHWA INDUSTRIAL ELECTRIC CO., LTD.

www.yhe.kr

2016-KTP-012

Transformer

ELECTRIC POWER TECH CO., LTD.

www.elpowertech.com

2016-KTP-013

General Supplies

WOO KWANG TECH CO., LTD.

www.wktech.kr

2016-KTP-014

General Supplies

INCELL CO., LTD.

http://incell.kr/

2016-KTP-015

General Supplies

JC COM CO., LTD.

www.jccomn.co.kr

2016-KTP-016

Control Protective Devices

JIN KWANG E&C CORP.

http://jinkwang.co.kr

2016-KTP-017

Telecommuniction Materials

TIDE CO., LTD.

www.tidekorea.com

2016-KTP-018

Protective Devices

PRIME SOLUTION CO., LTD.

www.primesolution.co.kr

2016-KTP-019

General Supplies

PROCOM SYSTEMS CO., LTD.

www.procom.co.kr

2016-KTP-020

Control Devices

P&A POWER SYSTEMS CO., LTD.

pnapower.net

2016-KTP-021

General Supplies

HANGUG CASTING CO., LTD.

www.jumul.net

2016-KTP(Gen)-001

Turbine Bolt

GERSAN CO., LTD.

www.gersan.co.kr

2016-KTP(Gen)-002

Protection Relay

NEOPIS CO., LTD.

www.neopis.co.kr

2016-KTP(Gen)-003

Seal

DONGSUH INDUSTRY CO., LTD

dongsuhco@naver.com

2016-KTP(Gen)-004

Analyzer

DONGWOO OPTRON CO.,LTD.

www.dwoptron.com

2016-KTP(Gen)-005

Smart Measurement Equipments

DUON SYSTEM CO., LTD

www.autrol.co.kr

2016-KTP(Gen)-006

Watertreatment System

DEERFOS MEMBRANES CO., LTD

www.dfmem.com

2016-KTP(Gen)-007

Analyzer

RECTUSON CO., LTD

rectuson.com

2016-KTP(Gen)-008

Coupling

SANG YONG ENGINEERING CO., LTD.

www.sangyong.co.kr

2016-KTP(Gen)-009

Heat Exchanger

SUNGSAN CO., LTD.

www.sungsankor.com

2016-KTP(Gen)-010

Actuator

ENESG CO., LTD.

www.enesg.co.kr

2016-KTP(Gen)-011

Distributed Control System, I&C

XEONET CO., LTD.

www.xeonet.co.kr

2016-KTP(Gen)-012

UPS & Battery Charger

XEONICS CO., LTD.

www.xeonics.co.kr

2016-KTP(Gen)-013

Pump

CW-HYDRO. INC

www.cwhydro.co.kr

2016-KTP(Gen)-014

Pipe

CARTEC SEALING TECHNOLOGIES CO., LTD.

www.cartecst.com

2016-KTP(Gen)-015

Turbine Parts

TURBO POWER TECH CO., LTD.

www.turbopowertech.com

2016-KTP(Gen)-016

Industrial Valves

TOTAL ENGINEERING CO., LTD.

www.totalvalves.co.kr

2016-KTP(Gen)-017

AC Induction Motor

HIGEN MOTOR CO., LTD.

www.higenmotor.com

2016-KTP(Gen)-018

Instruments

HISCO. INC

www.hiscoi.com

2016-KTP(Gen)-019

Generator

HAEGANG ALLOY CO., LTD

www.hgalloy.co.kr

2018-KTP-001

Cables and Conductors

KORYO CABLE Co., LTD.

www.koryocable.co.kr

2018-KTP-002

Cables and Conductors

Kumhwa Cable Co., Ltd.

www.kumhwacable.co.kr

2018-KTP-003

Meters

Namjun Co., Ltd.

www.namjun.com

2018-KTP-004

Cables and Conductors

DAESHIN CABLE Co., LTD.

www.daeshincable.com

2018-KTP-005

Manhole Cover

DESILTECH Co., LTD.

www.desil98.com

2018-KTP-006

Control Devices

DAE WOONG Electric Co., LTD

http://dwei.co.kr

2018-KTP-007

D/L Construction

d2 ENGINEERING Co., Ltd.

www.d2engineering.co.kr

2018-KTP-008

Insulator, Protective Devices

DTR Electric Corporation

www.dtrelectric.co.kr

2018-KTP-009

Transmission design surveying

SUNUNENG Co., LTD.

sununeng@daum.net

2018-KTP-010

SMART GRID

Wooam, Inc.

www.wooam.com

2018-KTP-011

Concrete Pole

JOONGANG INDUSTRIAL Co., LTD.

www.jaindustry.co.kr

2018-KTP-012

Insulator

PYUNGIL Co., Ltd.

www.pyungil.com

2018-KTP-013

T/L & D/L Construction

HANBAEK Co., LTD

www.hanbaek.or.kr

2018-KTP-014

Meters

KEPID AMSTECH Co., LTD.

www.amstech.co.kr

2018-KTP-015

Cables and Conductors

HANSHIN Electronic Wire & Cable Co., Ltd

www.hanshincable.co.kr

2018-KTP-016

Meter, D/L Construction

Hanwootech Co., Ltd.

www.hanwoot.co.kr

2018-KTP-017

Transformer

HYUPHWA ELECTRIC IND. Co., LTD.

www.hyuphwa.co.kr

2018-KTP-018

AMI system

CNU Global Co., Ltd.

www.cnuglobal.com

2018-KTP-019

Electric vehicle charger

SIGNET EV Inc

www.signetev.com

2018-KTP-020

Battery charger

Finetech Co,. Ltd

www.fine-tech.co.kr

2018-KTP(Gen)-001

Turbo Blowers

Namwon Turbo one

www.nwturbo.com

2018-KTP(Gen)-002

Selective Catalytic Reduction System

DAEYOUNG C&E

cnedrc.com

2018-KTP(Gen)-003

Valves

BFS Incorporation

www.bfsvalve.com

2018-KTP(Gen)-004

Conveyor

KOREA CONVEYOR IND. Co., LTD.

www.conveyor.co.kr

2019-KTP-001

Transformers

IEN HANCHANG CO.,LTD

www.hctr.co.kr

2019-KTP-002

Control & Protective Devices

KORYOTNC CO., LTD.

www.koryotnc.com

2019-KTP-003

Meters

GREEN INFORMATION SYSTEM CO., LTD.

https://www.greeninfo.kr/

2019-KTP-004

Transformers

KUMKANG TRANSFORMER CO.

kktr.co

2019-KTP-005

D/L Construction

NOVIKO ENG Co., Ltd.

www.noviko.co.kr

2019-KTP-006

PCS

DestinPower Inc.

http://www.destin.co.kr/

2019-KTP-007

Control & Protective Devices

DONG YANG EEC CO.,LTD.

www.dyeec.kr

2019-KTP-008

D/L Construction

D-TECH ENGINEERING CO., LTD.

www.dteng.co.kr

2019-KTP-009

Control & Protective Devices

Razzler Plus CO., LTD.

http://www.razzlerplus.com

2019-KTP-010

Control & Protective Devices

VITZRO EM CO.,LTD

www.vitzroem.com

2019-KTP-011

Meters

SEOCHANG ELECTRIC COMMUNICATION CO.,LTD

www.scec.co.kr

2019-KTP-012

General Supplies

ENERGYPLANET CO., LTD.

www.enregyplanet.kr

2019-KTP-013

Hardware and Fittings

WISE Control Inc.

www.wisecontrol.com

2019-KTP-014

Transformers

Cheryong Electric Co., Ltd.

www.cheryongelec.com

2019-KTP-015

General Supplies

JINHEUNG ENG CO,. LTD.

www.jhe.kr

2019-KTP-016

Control & Protective Devices

COWEAVER CO., LTD.

www.coweaver.co.kr

2019-KTP(Gen)-017

Conveyor

ILSIN PLANTEC CO., LTD

http://ispte.com

2020-KTP-001

Transformers

KOC ELECTRIC CO., LTD.

www.kocelec.com

2020-KTP-002

Transformers

KUKDONG ELECTRIC CO., LTD.

www.kukdongelec.com

2020-KTP-003

Instruments & Meters

DM POWER Co.,Ltd

www.dmpower.kr

2020-KTP-004

General Supplies

SEO KWANG Co., Ltd.

www.skesco.com

2020-KTP-005

D/L Construction

SM Powertech Co., Ltd.

www.smpowertech.co.kr

2020-KTP-006

Instruments & Meters

YUN TECH INC.

https://corporate-office-45235.business.site/?utm_source=gmb&utm_medium=referral

2020-KTP-007

Protection Relay

YOUNGIN ENGINEERING Co.,LTD

www.yesyoungin.com

2020-KTP-008

General Supplies

Korea Aviation Light Co., Ltd.

www.kalkorea.com